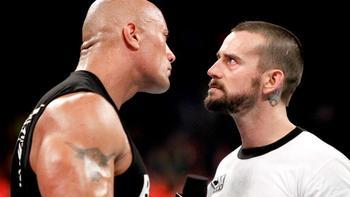 IMAGE CREDIT: WWE.com
Since his turn last Summer, CM Punk has done everything in his power to get everyone to hate him. From the easy targets like the ten year old wearing the latest "CeNation" shirt, to the thirty-something wearing Punk's own "Best in the World" shirt, who supports Punk because Punk represents a winner who wasn't supposed to win, a figurative middle finger to "the system".
He's said everything he can possibly say to ensure the entire audience will at least boo him, if not chase him with flaming pitch forks. Including people like me. I call myself and people like me nerds. That's not negative, it's a compliment. Nerd, to me, means a person who is passionately in love with a thing, and sticks with it in spite of it's flaws. A nerd devotes way too much time and money to it, and knows way too much about it. A nerd in wrestling context also means not letting the narrator dictate who you'll love and who you'll hate.
In his latest feud with The Rock, Punk has continued his efforts to get even his most staunch supporters to boo him. He's "you people'd" us to death, told us we're worthless, said he doesn't care about us and explained all the ways we're stupid because we believed his lies and manipulation. But I can't. CM Punk is my superhero, my role model. I've never felt as strongly for a wrestler as I do for CM Punk, and on Raw this week, he showed me why I feel that way.
IMAGE CREDIT: WWE.com
During the opening segment, Paul Heyman announced his resignation. He feared that Vince McMahon would soon take vengeance on him and anyone associated with him, including his best friend CM Punk. So he wanted to quit, in a bid to save himself and his friend. But Punk wasn't having that. He passionately implored Heyman to stay. His pleading worked, Heyman agreed and the two hugged. Proper hugged. Not in a Team Hell No "we've been forced to do this so it's all awkward" way. They hugged like two brothers who were reunited after years of being estranged would. Close to tears, Heyman repeated, "you are the best in the world" into Punk's ear.
It was lovely. Heart-warming. Genuine. Sincere. And it was the most progressive segment on WWE TV all year. But it was tainted when The Rock showed up later in the night. In typical Rock fashion, he wanted to take a moment of genuine emotion and heartfelt bonding between two friends and make it the butt of a joke. A point of ridicule. That's Rock's game, homophobia and misogyny. He poked fun at Heyman and Punk with some asinine Twilight reference to fill his pop culture gag quota. He tried to embarrass and humiliate them for having feelings and displaying affection.
But instead of becoming embarrassed or indignant; instead of clearing his throat and taking one step away from Heyman; instead of letting Rock's pathetic brand of humour get to him; Punk did the exact opposite. He put his arm around Heyman and just smirked. As if to say, "do your worst, you Neanderthal." It was fantastic.
That not only made CM Punk the most progressive character on WWE television, but it also showed me what The Rock vs. CM Punk as a match means to me. It goes beyond wrestling. They represent two separate set of ideals.
The Rock represents regression and oppression. He represents the idea that "real men" don't show affection, especially not to other men, and they especially don't HUG them. He represents the dated thinking pattern which keeps society from fully embracing and accepting diversity and equality. Rock embodies a superficial culture, where what you look like is more important than who you are. A culture which defines beauty as a nice body and blindingly white, straight teeth. He'll do whatever it takes to be popular. He's the jock in the gym who will pull the geeks shorts down and call him gay for getting his dick out in front of other boys. He glorifies being fake and superficial. Being a stereotype as opposed to being an individual. In a very real way, Rock's character represents everything I want wrestling and society to move away from being.
And CM Punk, well he's the opposite of that. Punk is progressive; he doesn't mind showing his affection towards another male (and he'll do it in front of millions of people). He won't flinch when some Neanderthal tries to make him feel bad about having feelings and showing affection. He represents the liberal attitude society needs to adopt to move out of an age of ignorance and oppression. He isn't concerned with what he looks like, and he doesn't change his appearance to be popular or to look like everyone else. He is what he is, and he couldn't care less what you think. Punk is the message that you don't have to be a stereotype to find success. Despite how his character behaves at times, Punk represents being honest in a society which prefers to lie. He represents being real in a world filled with fakers. He's everything I want wrestling and society to become.
That's quite a heavy concept to put on a wrestling angle. But I truly feel this in my heart. Rock vs. Punk is more than just a wrestling match to me. It's that, but it's also the clashing of ideals and values. It's what I hate vs. what I love, what I want less of vs. what I want more of. These two characters truly define two different ideals. One right, one wrong. One new, one old. One progressive, one regressive.
The unfortunate part is that the set of ideals which is likely to win out in this story is the wrong one. But I get it: WWE isn't ready for too much progression. Not yet, anyway. But Punk being successful proves it's possible. Perhaps that it's closer than ever. Just not yet.